A Project Course in Software Development for Industry
The purpose of the course is that students will develop and expand their knowledge of processes, methods and techniques in computer science. The course will provide knowledge of how to plan, carry out and present an independent improvement work related to their own company's problem and project model in software engineering.
Responsible: Mälardalen University (Petra Edoff, Mehrdad Saadatmand)
Course modules:
Introduction to scientific research and methods
Planning for an in-depth study and/or application in the specific field, presentation of pre-study and project plan
Evaluation of past change/development projects in the organization
Executing a development/change project in the organization
Learning outcomes: The student should after course completion be able to:
be able to search, identify and critically review the relevant sources
be able to account for improvements in processes, methods or techniques in projects with software, related to their own company›s field of activity
draw a distinction, specification and plan for the problem that the project in question
be able to assimilate new knowledge by developing, testing and analyzing new processes, methods, or techniques that the project in question
to evaluate the introduction of new processes, methods or techniques and
be able to present orally and in writing, documenting the different phases, and the results.
Related industrial challenges addressed in the course:
This course is for people working in the development of complex technical systems where software plays a key role.
The course is suitable for people that are interested in learning more on how to run change projects in their organization. Studies include the planning, implementation and monitoring of this change (e.g., process improvement, introduction of new technology, methods or tools, etc).
Course structure overview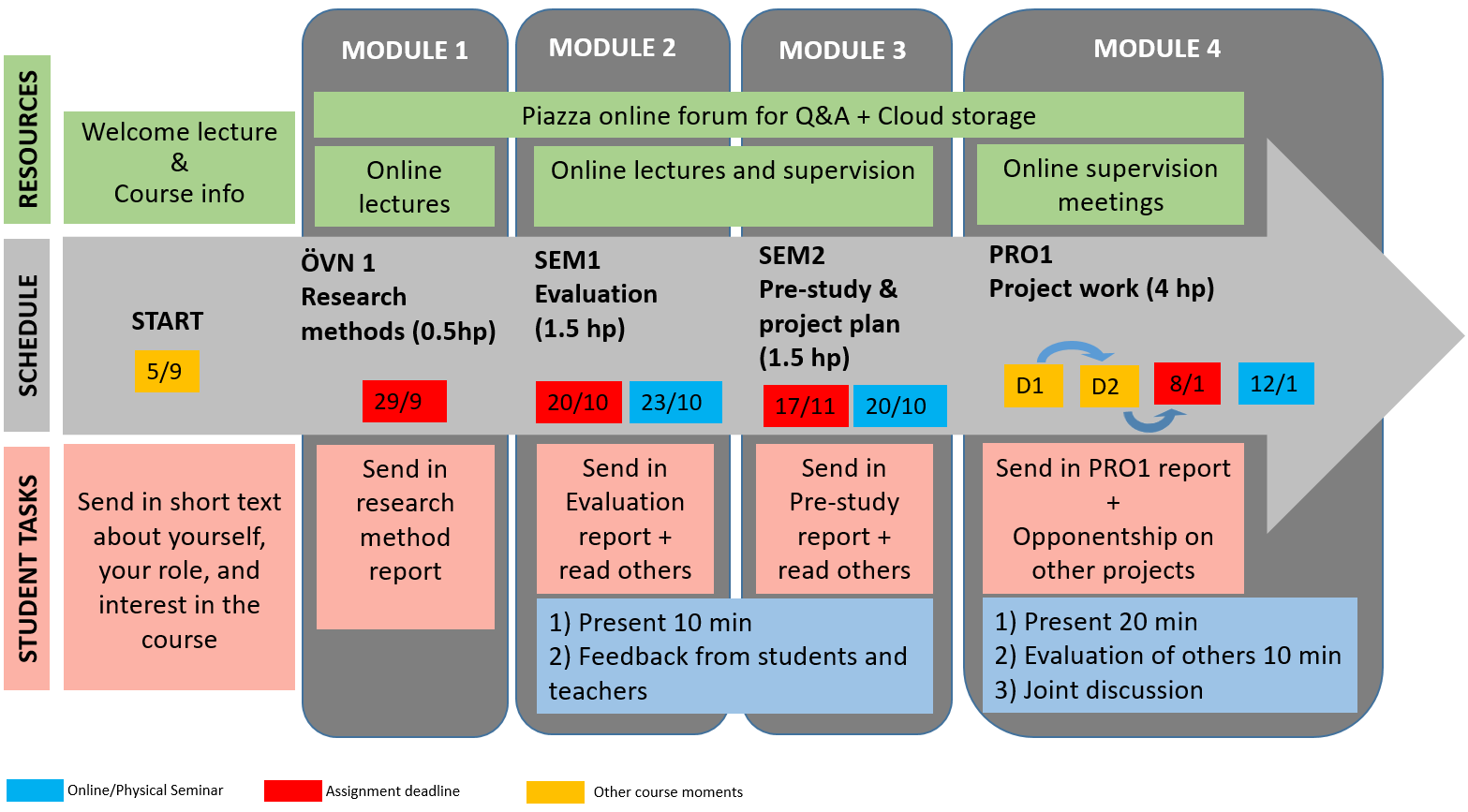 Upcoming instances: September 2018

More info:
Course title in Swedish: Industriell mjukvaruutveckling
Course code: DVA462 (at MdH), MDH-24122 (at antagning.se)
September 2017 instance at Mälardalen University
Course syllabus via Mälardalen University
Admission requirements: 120 credits of which at least 80 credits in technology or informatics, including at least 30 credits in programming or software development. In addition, at least 18 months of documented work experience in software development or related areas.